Helen K. Garber is known for her night urban landscapes taken in cities such as Los Angeles, New York, Paris and Venice, Italy. Her images are exhibited internationally and are in permanent collections of museums, private and corporate collections nationwide.
Helen's work has been published in a number of books and authored Venice Beach, California Carnivale in 2005. Her photo essay about life on Ocean Front Walk became the official commemorative book for the 2005 Venice Centennial.
A Night View of Los Angeles was commissioned for the 2006 International Biennale of Architecture in Venice, Italy. It is a 40-foot long, 360-degree panorama of the entire city of Los Angeles that was printed on one continuous piece of silk fabric. A second print was printed on vinyl for the front entrance of Photo LA, 2007. Mayor Antonio R. Villaraigosa presented Helen with a special commendation for the beautiful rendition of the city.
Helen partnered with Duce and invited renowned Los Angeles graffiti artists to use that print as a surface to ceremoniously tag the entire city of Los Angeles at once. It creates a statement about the importance of having art programs in public schools. A Night View Collaboration was first installed at the 2007 Venice Art Walk , and has been exhibited a number of times including in conjunction with GroupLA 2008 at the Los Angeles Art show, January, 2010.
Helen is directing a 5 year-long project entitled An Intimate View where artists of different cultures and economic backgrounds are documenting their own neighborhood in a subjective manner. The installation included the 25 artists of GroupLA 2008, An Intimate View of Los Angeles. It premiered as part of MOPLA, 2009 at MINARC/Gallery Skart. The installation was again exhibited at the international, FADA Los Angeles Art Show in January 2010. The collaboration was well received and reviewed. GroupSC 2009, An Intimate View of Southern California is the expanded, second phase of the project.
Urban Noir/LA – NY is a multi-media installation and formal photo exhibit that combines Helen's night urban landscapes with text derived from pulp fiction using the city as character and jazz music. It was first presented at the Samuel Dorsky Museum of Art in New Paltz, NY, in the fall of 2007. John Beasley composed an original score that he performed live as part of Helen's presentation at the Annenberg Space for Photography in June, 2009.
Venice/Venezia is a series of large, pigment ink on stretched canvas diptychs creating an analogue about the two cities to comment on global tourism and the effect on the people who actually reside in these over burdened destinations.
Helen lives with her husband, Dr. Stuart H. Garber and Springer Spaniel, Dudley in Santa Monica, CA. She maintains a studio on Ocean Front Walk at Venice Beach.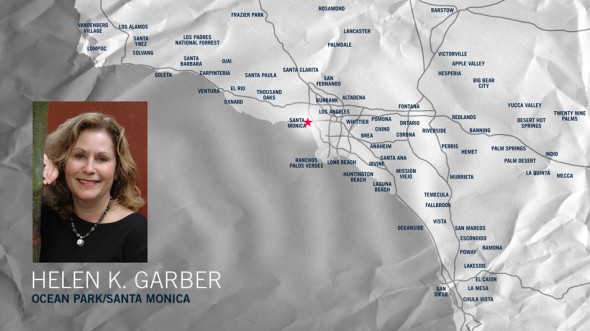 ---