www.shelleygazin.com
sgazin@aol.com
SHELLEY GAZIN is an award-winning artist with support from the California Council for the Humanities, Righteous Persons Foundation, and Memorial Foundation for Jewish Culture, The Durfee Foundation and The James Irvine Foundation.
Specializing in editorial portrait and documentary photography featuring iconic community leaders, artists, scientists and entrepreneurs, selections from GAZIN's image archive spanning three decades of contemporary culture are in demand for international publication. Limited Edition prints are available for acquisition. Assignments commissioned by major periodicals including Newsweek, Time, Los Angeles Magazine, The L.A. Times, Washington Post and others is represented by Corbis Images and The ImageWorks for ongoing worldwide syndication
GAZIN's seminal studies in pluralism pay homage to historic and evolving philosophic trends in Jewish practice. Looking for a Rabbi, which she conceived [1998] produced, and exhibited as a site-specific installation at the Skirball Cultural Center [2001] based on her interviews and photographs of over 30 pioneering Rabbis has been exhibited nationally. Currently, GAZIN is conducting primary immersion photo-research and video documentation within the Southern California Persian-Jewish Community. Selections from Becoming Persian: Photographs and Text Threads Illuminating the Iranian-Jewish Community have appeared in numerous group exhibitions and academic symposia and may be arranged by appointment. Excerpts of GAZIN portfolios will be collected at UCLA Young Library, Special Collections.
Other Jewish studies include her ongoing documentation of Paris' Marais: Hollywood on the Rue des Rosiers [1979-current], and Reconstructing the West Bank, a site-specific installation that journeyed throughout three floors of the UCLA Yitzhak Rabin Hillel Center for Jewish Life/Dortort Center for Creativity [2003].
GAZIN was born in Los Angeles, earning her B.A. and M.A. degrees in Design/Video and California Teaching Credentials at UCLA's College of Fine Arts where she pioneered electronic media as a teaching methodology in art and cultural partnership. Affiliations include the USC/LA. As Subject Archives Forum, Press Photographers of Greater Los Angeles, Southern California Women's Caucus for the Arts, College Art Association, Jewish Artists Initiative, and the UCLA Alumni Association. She has taught courses at LAUSD, Cal Arts and Pepperdine University and offers creative consulting and writing services from her studio in Marina del Rey, CA.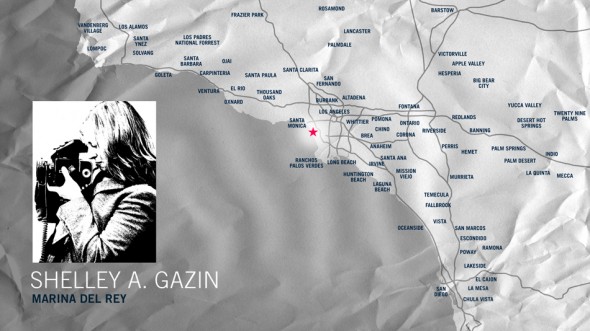 ---