Photographer artist, Meg Madison, was born and raised in New York City.  Madison left Hunter College to study film at San Francisco State University and once in Los Angeles began taking photographs that explored image and memory.
 
Madison's early work, MEMORIES OF CHILDHOOD, are black and white photographs of idealized childhood moments that both provoke the viewers own memories as well as questioning our collective idealization of childhood. SURFACE STREETS are fifty digitally enlarged (giant) Polaroid pictures that Holly Meyers in the LA TIMES called "a poetic visual essay that explores that most common of daily activities – driving – with fresh eyes."   Madison's series, 12.26, explores disposability through pictures investigating the fate of evergreen trees after the Christmas holiday. Her current work, RIGHTSIZING NARRATIVE, examines contemporary construction of visual language and is on exhibit at the Kristi Engle Gallery in Los Angeles.
 
Madison lives with her husband, son, and brother in law and two dogs who are all unemployed. Madison's photographs of WATER LOS ANGELS are part of the collective, groupLA2008 and groupSC2009. She has exhibited in many groups and solo shows, won awards, and is in many private collections as well as The Getty Research Institute, LACMA Education and MOCA Education Departments.  In addition to volunteering with high school youth and dog rescue, Madison serves on the board of Barnsdall LA Municipal Art Gallery Associates (LAMAGA).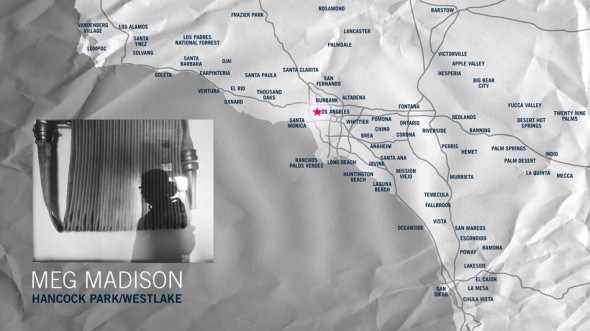 ---